0
Intensive Spanish courses
The General Intensive Spanish Course is our signature program: you will work on every language skill plus learn about Spanish language cultures with 5 extra lessons per week (+5). The Intensive program is available at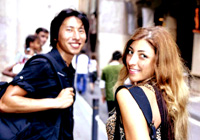 all 6 levels, with each level divided into subgroups to make sure you're placed exactly where you should be.
Our Intensive Spanish language courses guarantee the utmost flexibility and personal attention from the teacher. You can begin any Monday of the year , all year- round, for every level. Class size is always limited to 10 students, with an average of 5. The minimum duration is one week with the possibility of combining courses in as many Spanish cities as you want, at no extra charge.
Each course is divided into grammar and conversation. First you will study the basic language skills individually – reading, writing, speaking and listening – and then work to integrate them. The +5 culture classes cover topics as varied as History, Art, Civilization, Literature, and Cinema. These extra lessons will lead you to truly dominate the Spanish language in all its contexts.
Special Spanish Courses
While the intensive courses are the most popular Enforex programms, we strive to offer you a wide variety options for the special interests and needs you may have.
Whether you're looking for an individualized course of study, programs for special ages and times of year, exam preparation and teacher training, we've got the course for you! Among these courses, you can find the DELE exam preparation, christmas courses or programs for over 50 years old people.
Spanish courses for business&professionals
The demand for learning Spanish has more than doubled in the last 10 years and in 15 years there will be 500 million Spanish speakers in the world. As a result, business negotiations and trade agreements in both hemispheres hinge more and more on the economic importance of Spanish. It is now one of the most prominent la
nguages in international business and political meetings and is an official language in the EU, MERCOSUR, UNESCO, the UN, GATT, ONUDI & U.I.T.
Additionally, the increasing number of Spanish speakers in the U.S. has made it crucial to a variety of professions. Spanish teachers are evermore highly valued and sought-after, while medical professionals face the need for Spanish to communicate with patients on a daily basis.
For all of these reasons, Enforex offers a variety of Spanish Courses for Professionals designed to help you use Spanish in your career. You'll improve your general Spanish skills and, at the same time, acquire the vocabulary and cultural knowledge necessary to feel comfortable speaking and writing about all kinds of professional topics.
Spanish Academic courses
Our Academic Spanish courses are designed for students who have already reached an intermediate to
advanced level of Spanish and can express themselves comfortably in everyday situations.
These courses are complemented by extra-curricular activities including visits to museums and other cultural centers, always accompanied by an Enforex instructor. We offer history, literature and art-history courses!
Active Spanish courses
Want to mix your Spanish language course with physical pursuits?
Try out one of our Active Spanish Courses and start clacking, swinging or swimming away! You will enjoy your lessons and be able to attach them some sports such as like golf or scuba-diving, or learn spanish traditions like Flamenco dance!
Spanish language courses for juniors
The earlier you start learning Spanish, the better! We encourage students as young as 5 years old to come
discover Spain and take a Spanish immersion course.
These programs offer the unique opportunity for youngsters to expand their cultural horizons and get on the road to becoming bilingual.
Courses are available all year round, whether at an Enforex Spanish school in Spain, a Spanish high school or a Summer Language Camp.